Culture & Lifestyle
Published September 19, 2023
Behind The Scenes of Marvel Studios' 'Thor: Love and Thunder' with Chris Hemsworth
Hear from Thor himself in this excerpt from 'MARVEL STUDIOS' THOR: LOVE AND THUNDER THE OFFICIAL MOVIE SPECIAL' On-Sale Now!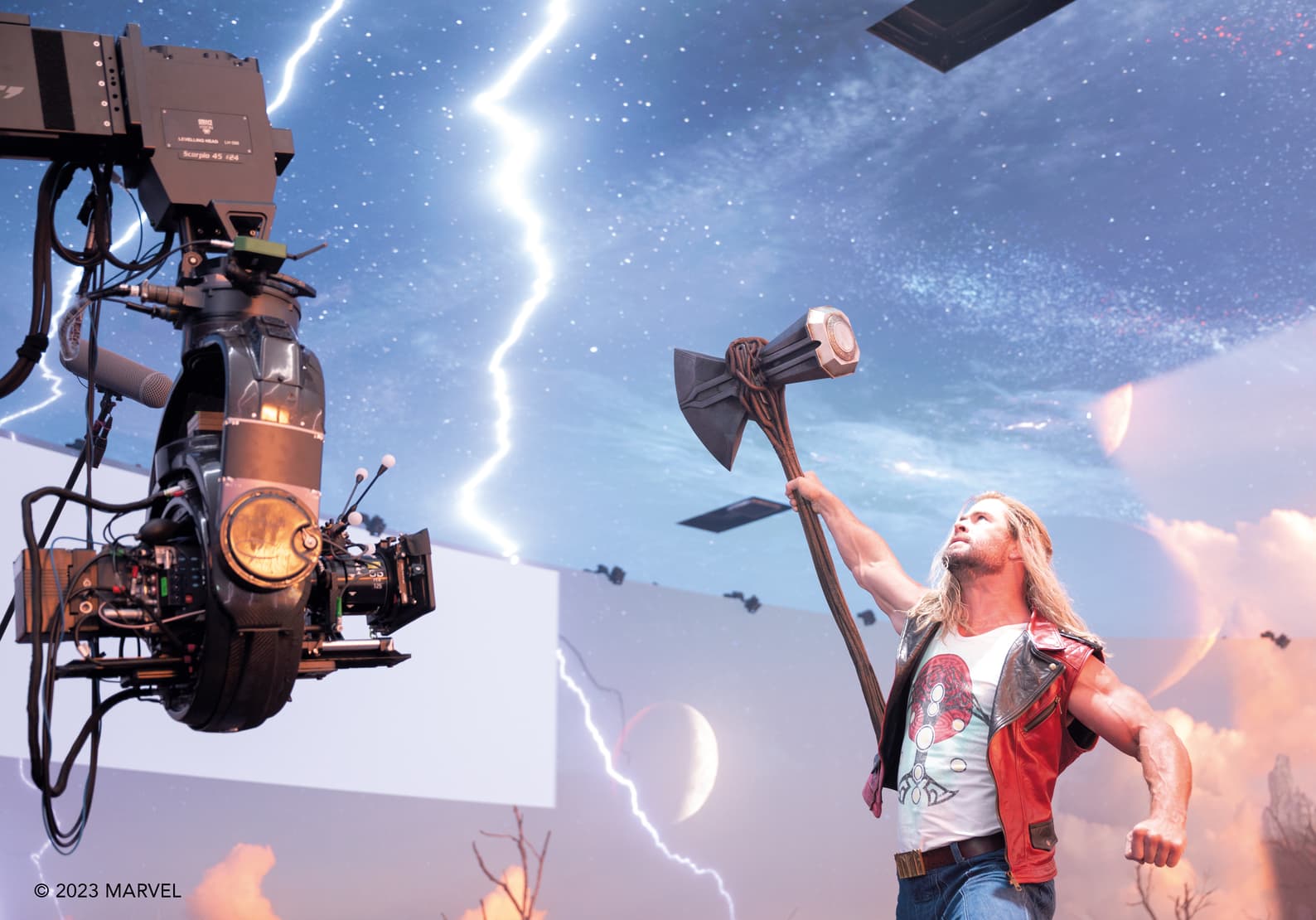 A bolt of lightning hits just as the heavy metal music kicks in and you know that Thor, God of Thunder has arrived. Although this time, Thor's not quite the same as the adventures of Marvel Studios' Thor: Love and Thunder begins. Now you can get behind the scenes of the hit film and hear from Thor himself, Chris Hemsworth, with the release of Marvel Studios' Thor: Love And Thunder The Official Movie Special, hitting bookstores everywhere today!
Lavishly illustrated with stunning behind-the-scenes images and production art, director Taika Waititi and cast members Chris Hemsworth, Natalie Portman, and Tessa Thompson reveal the secrets behind the creation of the spectacular movie.
You can order Marvel Studios' Thor: Love And Thunder The Official Movie Special at Amazon, Barnes & Noble, Books-A-Million or wherever books are sold, on sale today!
You can get as sneak peek of the book here with this exclusive excerpt of Chris Hemsworth's interview about overcoming Thor's challenges, teaming up with the Guardians and so much more!
CHRIS HEMSWORTH
Where is Thor at the start of Marvel Studios' Thor: Love and Thunder?
At the end of Marvel Studios' Avengers: Endgame, we see a confused, lost version of Thor. He's certainly better at the end of the film than he was at the start of the film. But he still doesn't really know who he is or what his place is in the universe. He decides he needs to go out there and search and take some time for himself. And so travels off with the Guardians and much to their discomfort and irritations, plants himself firmly in the center of their posse and tries to dictate how things should be run. He sees himself as the captain or the leader and that causes some friction within the group.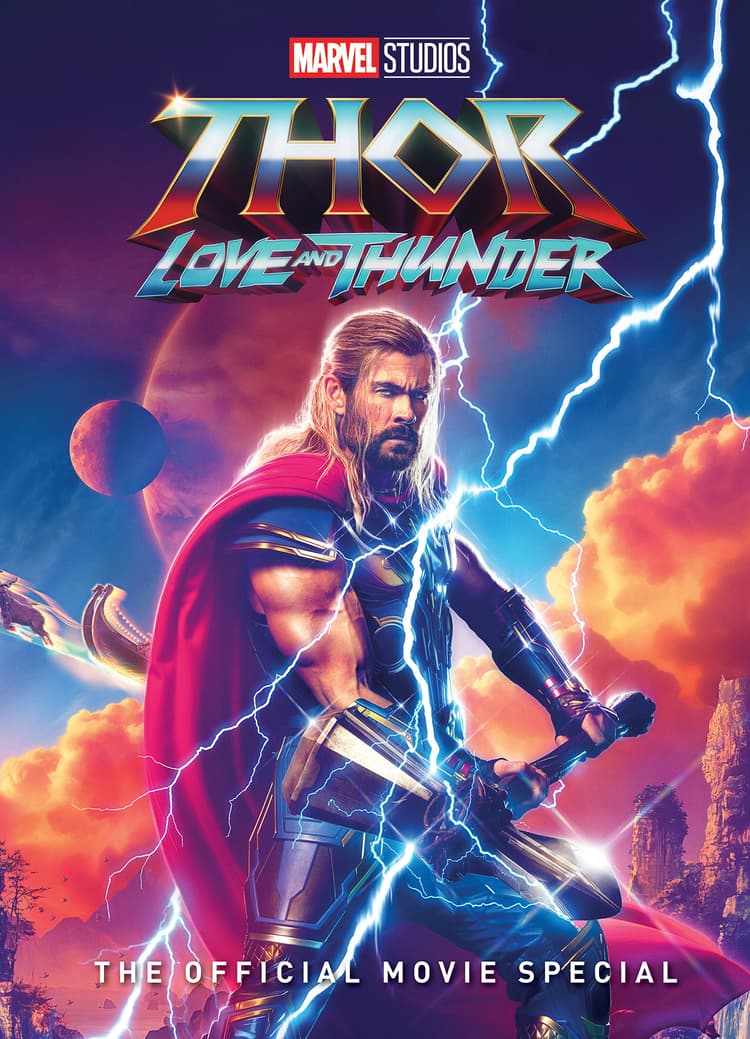 What was it like being back with the Guardians cast?
It was awesome Some of the funniest stuff I had on the Avengers films was interacting with them. It's just a very different pace with that group. There's a lot of improvisation, which is very much how we worked on Marvel Studios' Thor: Ragnarok. So that was a great opportunity to bounce back and forth from each other. I love working with every other Avenger. What's wonderful is everyone has a different energy. But with the Guardians there's a kind of humor to it and a sort of irony and a wackiness that seems to fit mine and Taika's brain.
The movie uses a new device called The Volume to create real locations for the actors to play against. Did you enjoy working with that technology?
It's been incredible. If you're standing on the edge of a cliff looking out into the sunset to actually be staring into a sunset certainly does pull out certain emotions and reactions from you that you may not get if it's your own imagination. It's very different staring at a blue or green screen. That's quite numbing and requires a whole lot more effort and imagination. Visually it's stunning because you get the actual reflection of the background of whatever it is you're looking at. In the scenes where there's beautiful sunsets there's a nice orange glow from the sun. If it's a scene where we're in outer space and there's all sorts of different colors and sparkles, then we're getting that as well. So there's aesthetically, a beautiful interaction that occurs.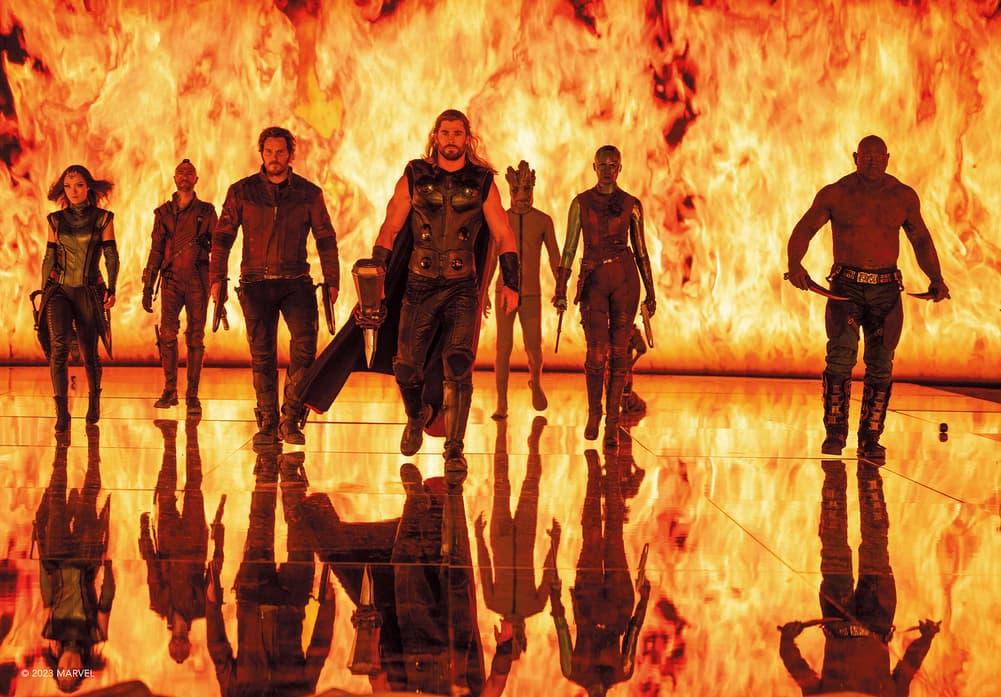 Do you prefer the long or short hair?
Short hair. I like that look with the semi-dreadlock hair and the beard and all that, especially in Marvel Studios' Avengers: Endgame, but that was the most uncomfortable look in the history of anything I've done. You've got glue on your face and on the beard, and then the wig is glued on. And there's pins and all sorts of other stuff. It's an extra hour or two in hair and makeup each day, so it's nice when we cut Thor's hair in the third film because I could just come in, put a bit of makeup on, and walk straight onto the set. Then, when we were doing the fourth film, we decided to give him long hair again!
What did you do to prepare physically for this movie?
Each time I've played the character, I had to put the muscle and size on, and then lose it for another role playing another character. But you have muscle memory and it got easier each time. This was particularly hard I think because of the sort of target weight we aimed for was quite a ways above where I'd been before.  This was probably the biggest I'd ever been, and I think the fittest. But we had twelve months where I was at home just training and exploring what I could do to get into the best shape. I tried swimming and Martial Arts, and tried different diets. It was a really fun exploration, and then I got really big and fit, but then I just had to hold it for four months, which was very hard.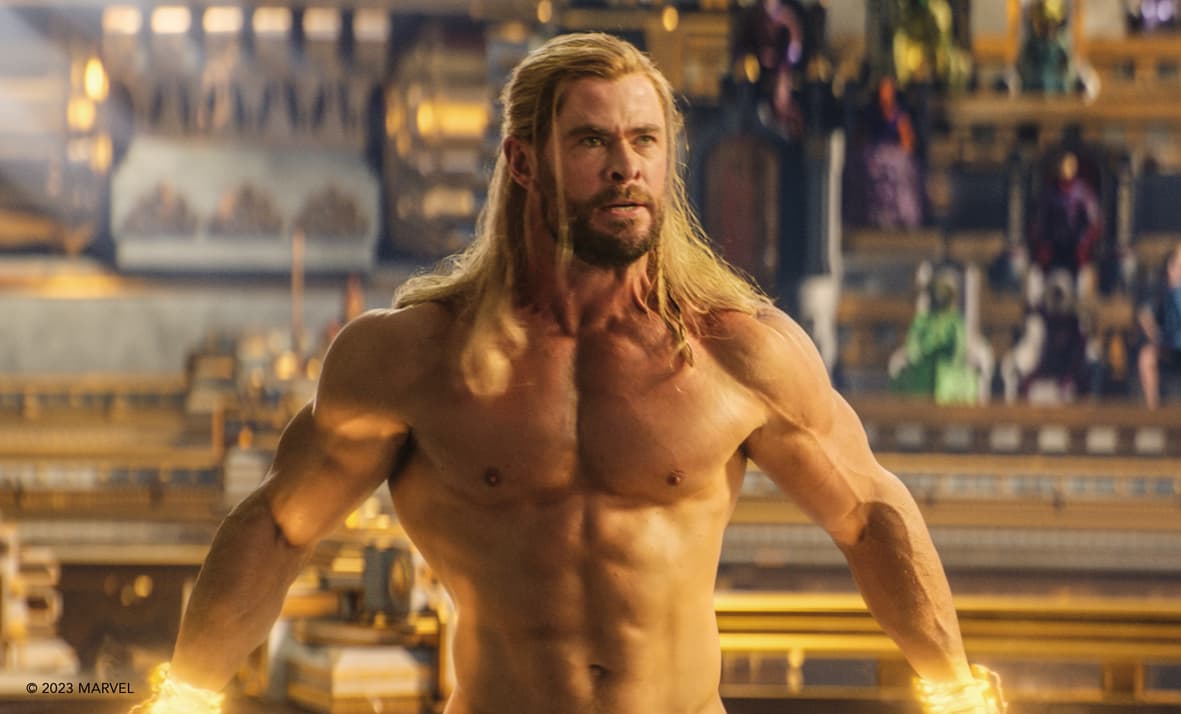 Read the full interview in Marvel Studios' Thor: Love and Thunder The Official Movie Special, on sale TODAY! Plus, interviews with Natalie Portman, Tessa Thompson, Taika Waititi, and a look behind-the-scenes at the making of the hit movie!
The Hype Box
Can't-miss news and updates from across the Marvel Universe!